Getting Started in Reselling
Reselling isn't a new game and has been around for years. With the rise of e-commerce, it is making it easier than ever to get started.
Below we've written a guide that includes top tips on reselling:
What are the best Items to resell?
Anything that will provide you with a healthy return on your investment, here are a few categories the team have had recent success with: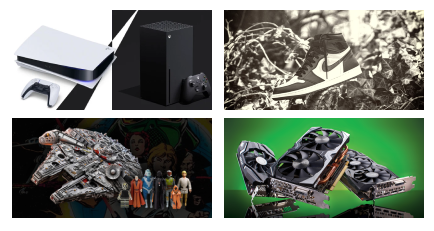 You Need to Be  Quick, Speed is of the essence!
Products tend to sell out really fast and sometimes even require you to enter a raffle or join a queue, you must find an edge to which traditional consumers generally won't do which creates a surge in demand.
Success is all in the Research & Planning…
In order to be a successful reseller, it's essential that you do plenty of your own research and plan everything to ensure you're able to identify products that will generate a high ROI (return on investment). The advantage of our service is that our expert team will give you our experience and most of the research you'll need. Together you will be well prepared to understand the marketplace.
Below are a few research/planning tactics which we'd recommend:
Always Check Sold eBay Listings – It's important to check to see if an item is popular by checking it's got recent sales.
Following retailers / influential accounts – On social media and sign up to email newsletters to keep up to date with new product releases and new trends.
Create Accounts & Sign In – Usually, you'll have to purchase items very quickly to secure them so signing up for an account in advance and ensuring your device is logged in can help save vital seconds!
Monitor Popular Products – Keeping an eye on product pages of popular items is essential, our service is monitoring sites in real-time so you don't have to!
Consider your Selling Platforms Wisely!
The hardest part of reselling is in the buying phase, but selecting the correct platform is also extremely important to make sure that you secure the best price and maximize your ROI (return on investment).
Below we've listed out the main selling platforms that our members use with a short summary of which they are best for:

eBay – This is the easiest platform to start selling on and very easy to use for beginners, plus there is a wide range of categories and different listing types; fixed-price listings or traditional auctions, commissions are 10% for private sellers, but they often hold regular £1 listing events are to save money on their fee's!

Amazon – The largest marketplace in the world and a great platform for reselling certain items on our team has a wealth of knowledge helping you leverage amazon's platform. Whilst Amazon can be a difficult platform to sell in certain categories once ungated it can provide very lucrative! Just watch out for their fees & strict selling policies!

Facebook Marketplace – This is the newest of the selling platforms which we recommend our members to use as it doesn't charge any commissions and often buyers will come to collect the purchased item which means no postage & packing fees. Facebook is great for local items such as gym equipment, trainers, or game consoles!

StockX / Goat – These are both great marketplaces to sell exclusive trainers and StockX also allows other valuable items such as graphics cards. Please note that fees can be high but you can also achieve high sales!
A final point on platforms is they are essential, but you will need to learn them and the more you use them the more you'll improve! Resell Concierge's service has a wealth of support to get you up to speed in no time from our extensive platform guides, Q & A's, and 24/7 ticketing system should you have an issue you need help fixing!
When should you get started?
Now! What are you waiting for? The sooner you get started the sooner you'll start building your reselling enterprise and adding to your monthly income £££, we've listed the top three reasons to get started:
The government's COVID lockdown not showing any signs of easing in the United Kingdom.
Schools are closed and most people are working from home with more residual income & time to shop online!
Most traditional high street retailers aren't able to open stores…less competition.
There are continued supply shortages across the board in most industries.
What are the risks?
Unlike most other businesses with reselling there is little to no risk! That's because the majority of the retailers where we buy from have extensive 'free returns' policy's so if a product you've bought doesn't sell you can simply send it back (in most cases) for a full refund ☺
The Bottom Line….
Reselling is an extremely lucrative business, if you put the time into it, which involves doing your research, learning how to use the main selling platforms (eBay & Amazon), and are able to diversify the categories you selling in!
If this sounds interesting and you want to get started in reselling then don't any look further than our membership, for £25 a month you will receive access to our server with a community of friendly and helpful reselling which has a wealth of information.
Sign up for our reselling discord service click here